What is a cap sleeve t-shirt?
The Cap Sleeve - our favorite cut
Our favorite shirt for more than ten years is the Cap Sleeve. Almost all of our FellHerz collections are based on this T-shirt cut.
Over the years we have only developed it further in nuances and even after such a long time it still expresses this special balance between individuality, elegance, sportiness and nonchalance.
But what actually is a cap sleeve t-shirt and what does the name mean in German? If you are asking yourself these questions, this article is the right one to learn everything about this great t-shirt pattern!
What is a cap sleeve t-shirt?
A cap sleeve t-shirt is a shirt with very short sleeves, so-called cap sleeves. The sleeves only go slightly beyond the shoulder edge and the sleeve hardly protrudes on the inside of the arm.

Shirts with this cut are considered a more feminine version of a classic t-shirt and come in a variety of variations and styles. This type of sleeve cut is not only found on T-shirts, but is also very popular on summer blouses or dresses.
Where does the name Cap Sleeve come from?
The name "cap sleeve" comes from the sleeve cut's association with a hat or cap. The shorter sleeves are tighter than on a normal T-shirt, enclosing the shoulders like a cap around the head. The cap sleeves cut is mainly worn by women and is particularly popular in the warmer months of the year.
What is the difference between a cap sleeve and a classic t-shirt or top?
The difference between a cap sleeve and a classic t-shirt cut is mainly in the cuffs. A cap sleeve t-shirt has short, fitted sleeves that hit high on the shoulder.

With a classic T-shirt, on the other hand, the sleeves are longer and looser and usually reach to the middle of the upper arm or even to the elbow.

A cap sleeve is often cut narrower or longer, emphasizes the shoulders and arms and looks lighter and more summery than a classic T-shirt.

The cap sleeve differs from a top in that a top has no sleeves at all. In terms of style, the cap sleeve is pretty much between a top and a classic t-shirt.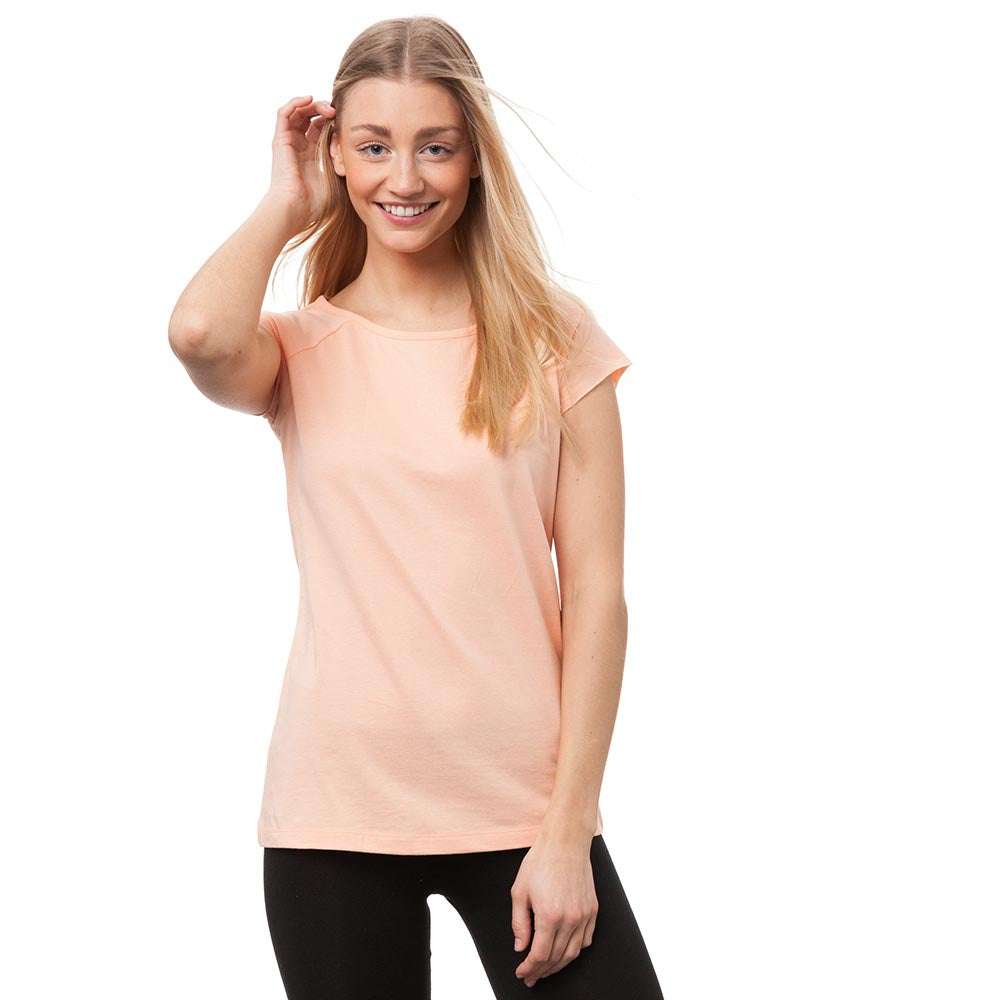 Who likes to wear cap sleeve t-shirts?
Cap sleeves and tops are more of a classic women's cut, they are mainly, but not exclusively, worn by women. Many fans find cap sleeves more comfortable and chic than classic t-shirts.
Cap sleeves are a good choice for everyday wear, but they are also great for special occasions like parties, weddings, sports and outdoor activities. Cap sleeves can be worn just as well on formal occasions.
Because there is little fabric on the sleeves to slip and pucker, the shirt is also a good choice to wear under a blazer or blouse.
The cut has a nice silhouette and is great for those who want to accentuate their arms as the sleeves are fitted to accentuate the shoulders and arms.
Our examples of cap sleeves
For which occasions are cap sleeve t-shirts well suited?
Whether for a barbecue, a visit to a café or a museum, whenever a casual look is desired, the cap sleeve shirt is your "perfect match".

It is also particularly comfortable to wear during sporting activities because it is airy and breathable. But it can also be combined well on formal occasions.

In a beautiful colour, together with elegant trousers, a chic skirt or blazer, it is a casual take on business chic.

The shirt is therefore very suitable for occasions where an airy and light outfit is required. It is also a great choice on warm days and for all outdoor activities.
Conclusion
Especially in hot weather it can be really difficult to find suitable clothes, tops and shirts.

In contrast to a three-quarter or full-sleeved model, do you want to be comfortable but not too skimpy? Cap sleeves with their cap sleeves are a great compromise here.

They have less fabric, are airy and super comfortable to wear and look professional and sporty elegant at the same time.